Get Long, Luxurious Lashes!
Eyelash extensions have become extremely popular, especially if you're looking for an easy way to get the long, thick lashes you've always dreamed about. At Lash Envy Studios in Mesa, we offer a variety of salon services to help you look and feel your very best, including eyelash extensions! Give us a call to request an appointment!

At Lash Envy Studios, we want you to be completely satisfied with your lash extensions, which is why our lash technician will create a customized treatment option for you that includes:
Customized to your eye shape and your desired look
Customized curl
Customized thickness
More!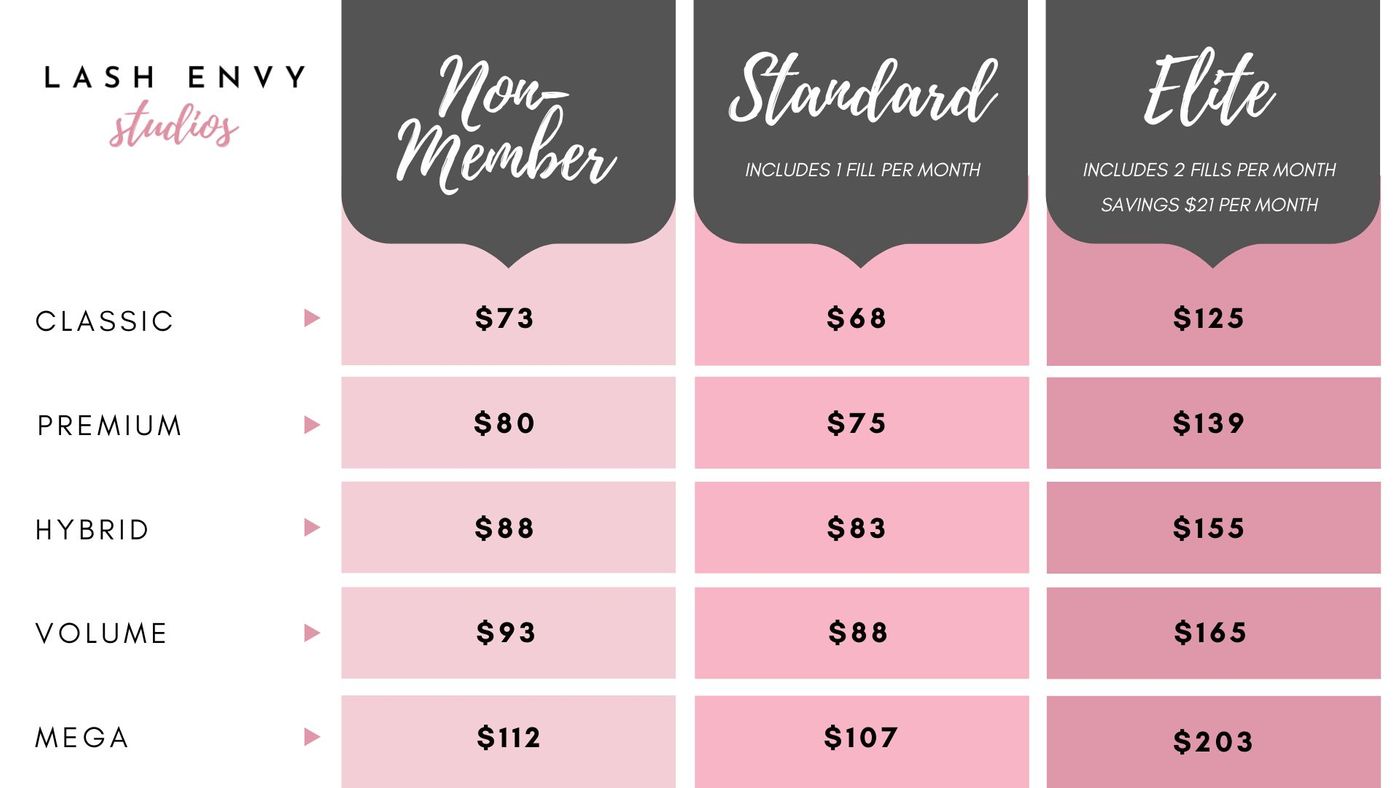 When you go in for your appointment at Lash Envy Studios in Mesa, you will first go thru a complete consultation. During this time, our expert lash technicians will sit down with you to discuss your desired look, lifestyle and eyeshape. They will then customize your service to best achieve your desired look based on your natural lashes. Book your appointment by calling or online today!
POLICY IF LASHES WERE APPLIED SOMEWHERE ELSE
While lash extensions can be a great way to get the beautiful lashes you've always wanted, we have found that lash extensions and application methods are not always consistent. If you had your lashes applied by another studio, Lash Envy Studios will do a fill if the lashes were applied correctly and are not causing damage, however, we may require a complete lash removal prior to an application in our studio if the work is not up to par. If a complete removal is required, then it is best to complete it 24 hours before your lash extension appointment for better retention.
IMPORTANT INFORMATION
Please plan to arrive to the studio 10 minutes prior to your appointment to facilitate our check-in process.
Prior to your appointment
Notify your stylist if you have any known allergies to aloe, coconut, or cyanoacrylates.
Remove all eye cosmetics, as well as all eye creams and serums. Cleanse your lashes thoroughly prior to arriving for your appointment. If that's not possible, please arrive an extra five minutes early to remove makeup before your lash appointment.
Do not apply heavy moisturizers, lotions, or facial oils to your skin 24 hours prior to your lash appointment.
Please remove contact lenses prior to your appointment, we cannot apply lashes if you have contacts in. Doing so could result in eye irritation and damage to eyes. Bring glasses to go home in to avoid getting the adhesive wet after application.
Do not curl your lashes on the day of your appointment. Extensions will not adhere to crimped eyelashes.
If you have had an eyelash removal done, please cleanse lashes thoroughly and wait 24 hours before receiving a new set of eyelash extensions if the removal was done using an adhesive remover.
Tell your lash stylist if you have recently had any treatments that can irritate the skin such as laser treatments, permanent cosmetics, chemical peels, skin resurfacing, injectables, fillers, or eyebrow waxing.
To maximize time with your lash stylist, always arrive at your appointment with clean, make-up-free lashes. After your lash appointment, ask your stylist about our specially formulated products to protect and extend the life of your eyelash extensions. A full set takes one and a half to three hours to apply depending on the style of lashes you choose.
Ready to get started? Contact Lash Envy Studios in Mesa to request an appointment and take one step closer to your gorgeous new lashes!
MASTER LASH ARTIST: $10 ADDITIONAL
It's recommended not to go longer than 3 weeks between fills. Going longer will usually result in paying for a full set again.
ARE YOU READY TO TRY IT FOR YOURSELF?
Explore our website to learn more about our microblading options, and contact Lash Envy Studios in Mesa to make an appointment at either of our two locations in Dana Park or Las Sendas.