Let Us Pamper You
Are you tired of managing annoying breakouts or trying to keep up with oily or dry skin? At Lash Envy Studios in Mesa, Arizona we want to help you get skin that not only looks great, but is also healthy and more manageable. If you're struggling with stubborn skin, our facials and skincare treatments are for you! We also offer a variety of beauty treatments, from lash extensions to brow lamination, to enhance your natural look. Learn more below and give us a call to schedule an appointment!

At Lash Envy Studios, we know that not everyone's skin is the same, which is why we offer a few different skincare options:
Chemical Peels
The Dermaplane Facial
HydraFacial
Custom Signature Facial
Microdermabrasion
Microneedling
Facial Pricing & Memberships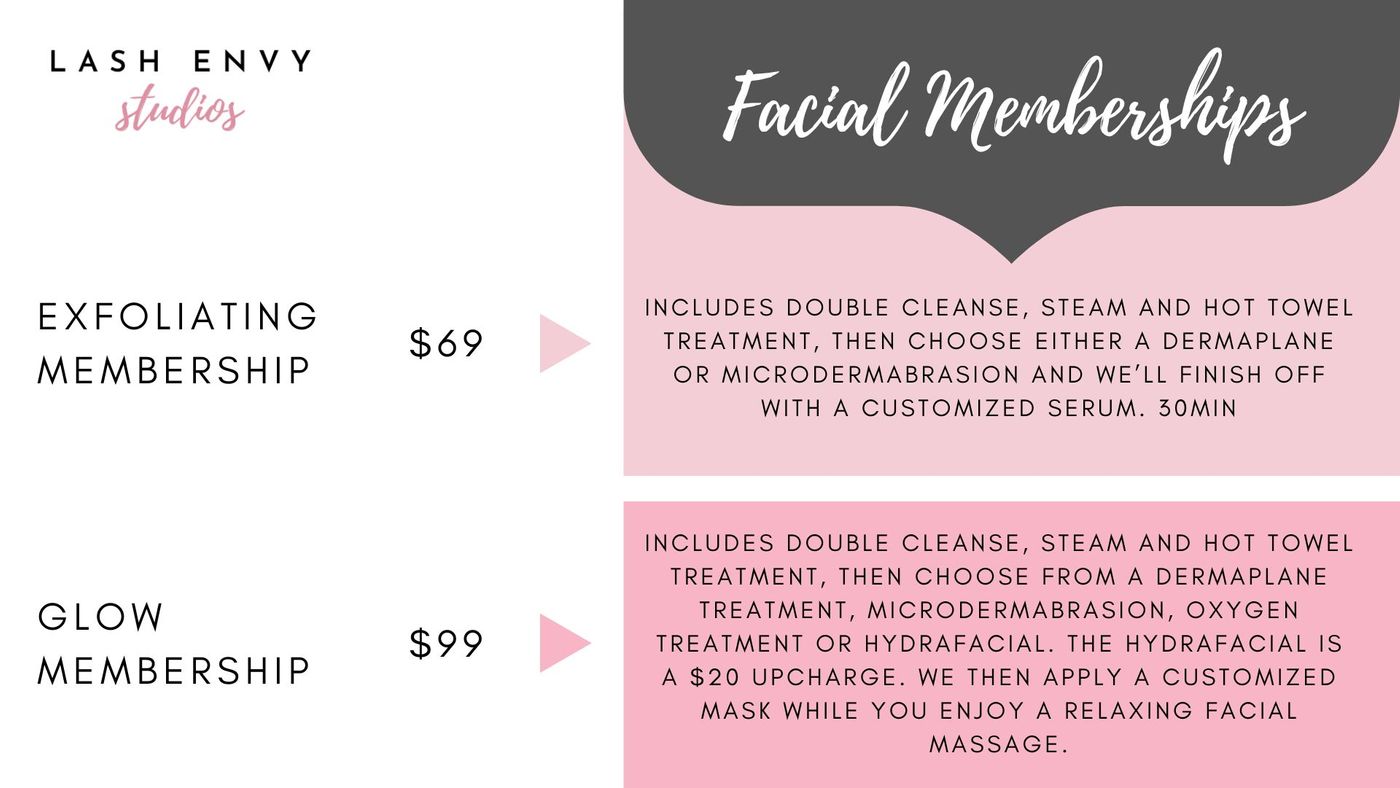 Facials & Skincare Treatments
When you have stubborn blemishes or other skin concerns on your face, it can be embarrassing, and over-the-counter cleansers and skincare products can only do so much. At Lash Envy Studios, we want to help you look your best with one of our signature facials. When you make an appointment, we will ask you about your skin concerns and choose a treatment that is right for you. Explore our website and continue reading below to learn more. When you're ready, give us a call to schedule an appointment at our Mesa salon!
CHECK OUT OUR TREATMENTS!
Interested in trying a facial for yourself? At Lash Envy Studios in Mesa, we proudly offer a few different options.
$85/60 min
Treat yourself to luxury while pampering your skin. This facial is customized to your skin type, allowing us to address your skin concerns and goals. Experience a skin analysis, deep cleansing, exfoliation, extractions, and a serum and mask specifically chosen for your skin type. This facial is a relaxing, sensorial treatment featuring advanced products, techniques, and technologies. Our luxury treatment takes you on a journey to your healthiest, most luminous looking skin that will appear renewed, hydrated, and glowing!
Jan Marini Facial
$95/60 Min
Our Jan Marini is an award-winning, medical grade skin care line that provides highly effective products to treat a range of complex skin conditions including sun damage, fine lines and wrinkles, acne scarring and skin discoloration. See a dramatic difference in just one treatment! See the best results when you pair our Jan Marini Facials with The Skin Care Management System products, voted Best System for 10 Straight Years by NewBeauty Magazine. Four different facials to choose from:
Proteolytic Facial- Reveal healthy, smooth, polished and hydrated skin. The Proteolytic Enzyme Facial is an effective yet gentle method of exfoliation utilizing proteolytic enzymes to digest unproductive dead skin without harming normal healthy tissue. Plus, hydrating and calming ingredients soothe even the most highly sensitive skin.
C-esta Facial- A powerful facial with an antioxidant cocktail of lipid-soluble vitamin C and DMAE to help repair free-radical damage and enhance facial tone. The C-ESTA Facial provides exceptional anti-aging and skin rejuvenation benefits. Skin will appear lifted, firmer and with tightened facial contours.
Marini Luminate Facial- Visibly improve the appearance of skin tone, texture and luminosity with a unique combination of lactic and mandelic acid, brightening technologies and antioxidants. Uncover vibrant skin by revealing a brighter, more even skin tone and youthful appearance.
Retinol Plus Facial- Amplify anti-aging correction for dramatically smooth, flawlessly clear and radiantly hydrated skin. The Retinol Plus Facial is an accelerated protocol featuring the highest concentration of retinol and advanced skin rejuvenation technologies for immediate long-term benefits. Visibly improving the appearance of fine lines and wrinkles, acne and sun damage.
Order Jan Marini Products with this link and have them delivered for FREE!
ADVANCED SKINCARE SERVICES
$150 non-member/ $119 member (60 min)
Are you ready to glow? This red carpet treatment is a resurfacing procedure, integrating vacuum extraction, exfoliation, hydration, and iontophoresis (serum infusion). How does the Hydrafacial work?
The first step is the Cleanse + Peel: removes dry, damaged skin cells to uncover a new layer of skin.
Next, is the Extract + Hydrate: removes debris, comedones, and blackheads, then nourishes with intense moisturizers that will quench the driest of skin.
Lastly is Infuse + Protect: condition-specific serums deliver nutrients, antioxidants, and peptides to maximize that glow! Treats fines lines & wrinkles, congested and acne-prone skin, enlarged pores, sun damage, hyperpigmentation, and dry, dehydrated skin.
$65/30 min
Dermaplaning is a manual exfoliation technique that removes the top-most layer of dead skin along with fine, vellus hair, more commonly known as peach fuzz, in order to reveal a smoother, brighter complexion. This is the perfect treatment for dull, dry, skin lacking smoothness and vibrancy. Can be performed monthly with no downtime.
$120/60 min
Dermaplane is an effective treatment that exfoliates your skin's surface by removing the top layer of dead skin and fine vellus hair. This helps you get the best results when combined with one of our facials. This skincare treatment will allow for better product penetration and will leave you with the softest, smoothest, glowing skin you have ever dreamed of!
Microdermabrasion Facial
$120 non-member/ $99 member (60 min)
Microdermabrasion A-la-carte 30min…….$65
A non-invasive, skin resurfacing procedure that gently exfoliates or polishes away the top layer of dead skin cells while eliminating imperfections and stimulating collagen growth to reveal healthy new skin that looks and feels smoother. Reduce or eliminate wrinkles, acne, scars, age spots, stretch marks & more! Paired with our customized facial or Jan Marini Facial
$120 Non-Member/ $99 Member
Oxygen treatment with infusion of Hyaluronic Acid added to other services…….$40
Oxygen therapy is a protocol that infuses the skin with an all-natural anti-aging molecule: pure oxygen. This re-energizes tired cells in the skin to recover their splendor and youth. The skin appears more plump, hydrated and regains light and clarity. Paired with our custom facial or the Jan Marini facial. It is also ideal when combined with other treatments.
Radiofrequency Skin Tightening Treatment
$65 + depending on the area being treated
RF heats tissues below the surface to stimulate collagen and elastin production. Great for skin tightening, fine lines & wrinkles, smoothing out cellulite bulges, and promoting collagen & elastin.
Skin Resurfacing
60 is the new 40! Turn back the hands of time and enjoy vibrant youthful skin at any age! We can have it all; fewer lines and wrinkles, improved firmness, increased volume and smoother texture for a radiant appearance.
Glycolic Peel
$120/45min
Jan Marini Glycolic Peels utilizes a high concentration of multiple acids to lift the appearance of pigment and resurface the skin. Retinol, peptides and antioxidants enhance efficacy and overall results. Meaning your skin will look brighter and clearer, with a noticeably softer and smoother texture as the treatments progress, along with the use of the home care program. Jan Marini Glycolic Peels help reduce cell "build up" at the lower levels of the skin. A gentle Glycolic acid exfoliates away coarse, discolored, dead layers of skin then penetrate's through that layer to rejuvenate and regenerate the skin cells underneath.
This restorative facial treatment will resurface your skin giving it a dramatically softer, smoother texture, reducing fine lines and wrinkles, hyperpigmentation and reduce scarring. After just a few weeks your skin looks brighter, clearer and dry skin become hydrated and smooth with fewer fine lines and wrinkles with no downtime!
$150/45 min
For those who desire a traditional chemical peel we are pleased to offer the Jan Marini peel system. While they are available individually, it is recommended to use in a series of three treatments. We suggest having a Jan Marini Enzyme Facial two days following the application of your peel to help slough away dead, flaking skin.
Clarify Peel- The Clarify Peel is ideal for anyone seeking a serious solution for acne and oily skin. Lipid soluble salicylic acid and mandelic acid dissolve oil to penetrate into and clear follicles for maximum results. Clarify peel is also a great solution for resurfacing and rejuvenation of ethnic skin. Peel application is followed by a highly concentrated Retinol Activator containing peptides and antioxidants to enhance recovery and overall result.
Refine Peel- The Refine Peel is designed for individuals of all skin types who are seeking more significant skin rejuvenation in fewer treatments than progressive gel peels, and with less downtime than more aggressive procedures. Peel application is followed by a highly concentrated Retinol Activator containing peptides and antioxidants to enhance recovery and overall result.
THE BENEFITS OF FACIALS
Many people are under the impression that a facial is just something you do when you want to relax, but it is so much more than that. Getting a facial is a great way to improve your skin, and those with skin conditions such as hyperpigmentation, severe acne, blemishes, fine lines and wrinkles and a number of other conditions can really benefit from a soothing facial treatment. While a facial does help you feel more relaxed, it can also provide your skin with the necessary nutrients to help it heal while also diminishing the appearance of certain conditions.
Series Available
Purchase a Series of 3,6,or 9 – Receive 10% Off
Ready to book an appointment? Contact Lash Envy Studios to speak to a friendly member of our staff and book your appointment at our studio. We look forward to seeing you!
ARE YOU READY TO TRY IT FOR YOURSELF?
Explore our website to learn more about our studio, and contact Lash Envy Studios in Mesa to make an appointment at one of our two locations, Dana Park or Las Sendas.